Church Heating Electrical Heating Services
Electrical Church Heating Solutions
Sometimes a conventional church heating system may not be suitable, so we have teamed up with a leading cold case electrical heating manufacturer to provide a low-cost and effective alternative.
Our electrical heating solutions provide immediate and direct heat to people in attendance at the church.
A typical heating system is designed to heat the whole room or building, and as we all know, hot air rises, and especially with high ceilinged churches this can be very wasteful
This is where direct electric heating comes in. Located under the pews, our Dimplex skirting heaters provide instant heat to worshippers and patrons of the church at the flick of a switch.
The heaters are located under each pew, and radiates heat towards the user as illustrated here: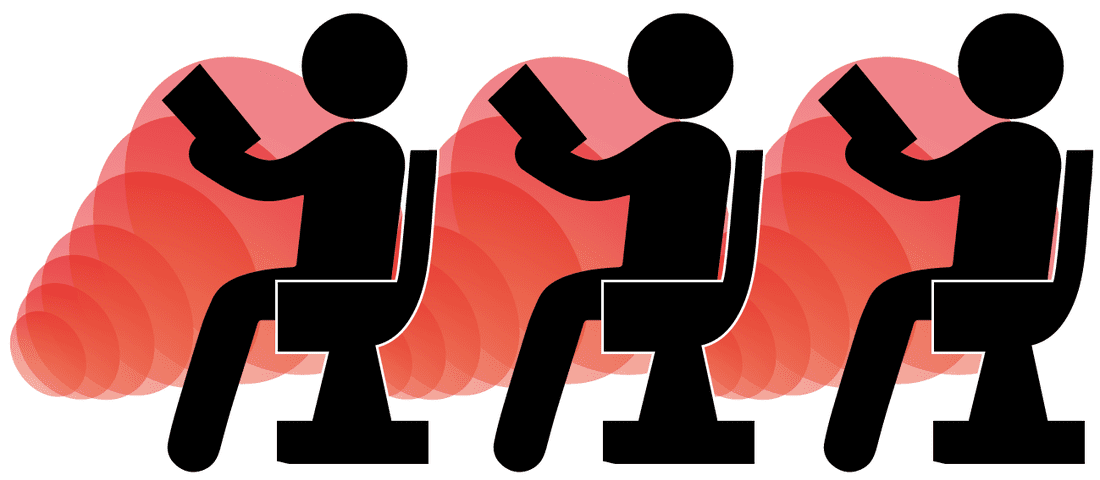 And as you can see from this bird's eye view of a church, heat is only produced where it is needed: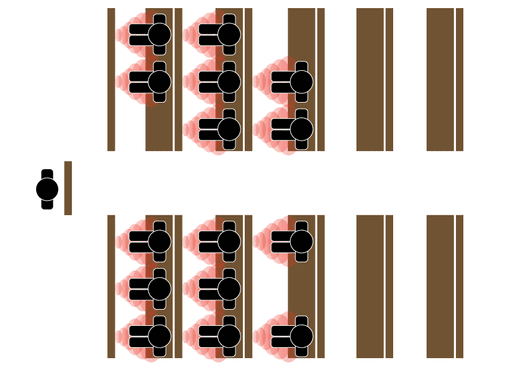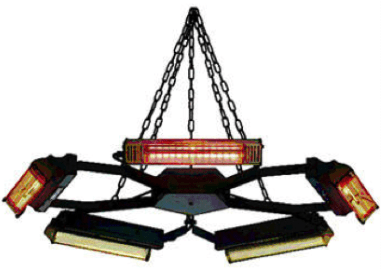 Chandelier Heating
The 'Pentagono' heater represents an effective but relatively low cost heating solution for churches and religious buildings.

Its modern appearance and stylish design fits perfectly into most church environments whilst the impressive 7.5kW to 10kW output can easily heat the congregation in an instant.

The 'Pentagono' Chandelier consists of a central section with 5 radial arms each housing a short-wave infra-red heater able to heat the congregation directly without having to heat the air up in between.
Benefits
Unobstructive
Provides light and heat
Efficient and cheap to run
No fumes or smell
no noise
Fast installation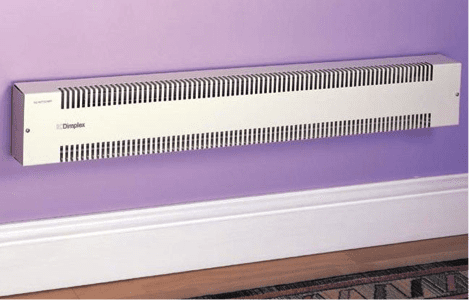 Under Pew Heating
Dimplex skirting heaters are ideal for under low windows and for conservatories.  Having no user controls they are a good choice for under-pew heating in churches and chapels where fixed pews or stalls are used

The SCH5 is suitable to be used wall mounted or floor mounted (if floor standing they must be fitted with the feet kit CH9101). The heater features a safety cut-out and has no user controls but are suitable for connecting to a thermostat or a timer.

Benefits

Robust metal construction

Slim design

Unobtrusive

No user controls making it ideal for churches and other public places

Efficient and cheap to run

No fumes or smell

No noise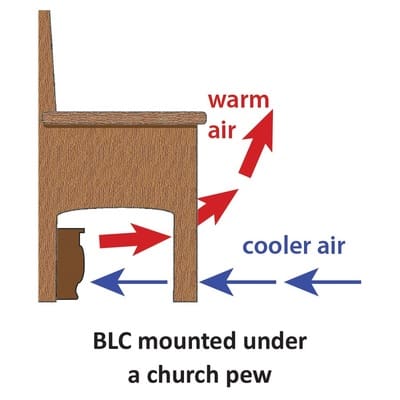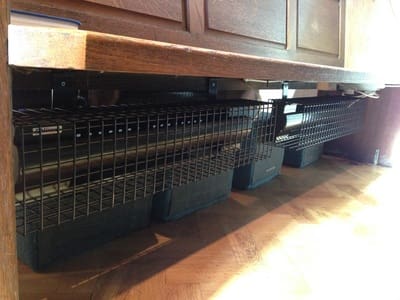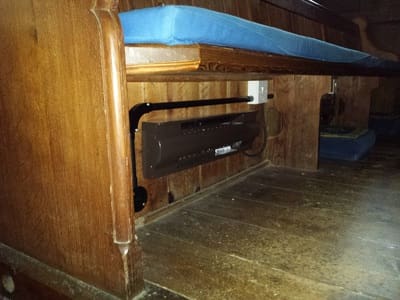 When heating a church many variables must be taken into account.
Very High Ceilings 
Large Single Glazed Windows 
Old and Fragile Timbers and Masonry 
Minimal Wall Space 
Very Poor Overall Insulation Value
So chosing the correct heating system is vital. 
Primarily the first question to ask yourself should be 'why are we planning to heat our church?' And the most probable answer will be 'to heat our congregation.' 
Also without doubt your other primary concerns will be the Running Costs, Installation Costs and Time, Servicing Costs and  Overall Efficiency for the Primary Objective – To heat your congregation. 
Warm People + Minimal Running costs = Efficient Heating 
The law of physics define that hot air rises. So why pay to heat the ceiling? There are also other factors that all contribute to the overall running costs, these include: Constant use to maintain an ambient temperature, Expensive serving and maintenance and risk of freezing and leaks when not in use. 
Hot air heating systems need to run longer in order to fill the whole room so people may feel the benefit. This is inefficient and expensive. 
With an electrical church hearting system, you essentially have pay as you go heating, with very low running costs, and immediate direct heating to your congregation and any other ares you specify, without the wasted heat being lost like with a hot air system. 
With a simple click of a switch, your congregation can enjoy instant heat, there's no warm up times, and no loss of heat. 
Got a question?
To speak with one of our specialised church heating engineers, simply fill in your details below, and we will contact you straight away