We are the UK's number one Church Heating Specialist
HeatinGlobal Ltd are THE National Church Heating Specialists. We can assist you in designing, planning and installing a heating system that suits your church heating needs. Heating systems are available in natural gas, electrical, oil and LPG.
We are a friendly and professional Gas Safe registered company offering quality church heating and plumbing installation and services throughout the UK, with the highest attention to detail, as well as a strong emphasis on customer service.
We supply, fit, maintain and repair church heating systems across the entire country, and have access to church heating grants to help fund our clients projects.
For free quotation and design of your church heating projects contact us today on 0161 211 6955
CHURCH HEATING GRANTS AVAILABLE WITH NO INTEREST CHARGED!

Follow The Church Heating Specialist
Join our hundreds of followers and fans on out Facebook and Twitter pages to see the latest work, exciting new projects and more information about the church heating services we provide. We regularly post pictures of the projects we are working on, as well as behind the scenes here at The Church Heating Specialists…
National Church Heating Service
Our specialist church heating engineers covers the entire UK from the Highlands of Scotland to the very tip of the South Coast of England. We have a nation wide team of Gas Safe registered experts who are always happy to visit for project appraisals and to provide free quotations for any work required, click here to see the locations we cover

Heating a Church
We've been heating churches for over 20 years now, and we can give you the very best advice on how to heat a church, and with our free appraisal and quotation service, our experts are just a call or click away…
Latest work
Over the past decade we have completed hundreds of church heating installations throughout the UK. Here are some examples of some of the latest projects we have completed. We always log the progress of the work with pictures, as well as summaries the work that we have carried out. To see more examples of church heating projects, click here. If you would like any advice our even a quotation on your church heating project, give us a call today and our friendly team will be happy to help: 0161 2116955
HVAC Manchester…
We are Manchester's number one company for HVAC for churches, and we cover the entire UK. HVAC stands for Heating, Ventilation and Air Conditioning, which sums up our expertise quite nicely! Producing heat for the cold winter, and cooling for the hot summer is a never ending cycle, but our trained specialist engineers are fully equipped to ensuring your church is always at the most comfortable temperature for you and your patrons. For more information on our HVAC solutions, give us a call on 0161 211 6955
Gas Safe Registered
All of our church heating engineers are fully Gas Safe Registered. Read more about our company
here…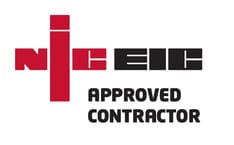 NICEIC Approved
We are an approved electrical contractor with NICEIC, the governing body for electrical safety.
TWI
Members
The Welding Institute is the leading international body for welding and joining professionals.
CIPHE Members
We are approved by the Chartered Institute of Plumbing and Heating Engineering.

OFTEC Registered
We are members of the Oil Firing Technical Association, who represent the oil heating and cooking industry.