WELCOME TO CHURCH HEATING SPECIALIST

Do You Want FREE Advice From The Experts?
We are the UK's number one Church Heating Specialists!
Church Heating Specialists
HeatinGlobal Ltd are THE National Church Heating Specialists. We can assist you in designing, planning and installing a heating system that suits your church heating needs. Heating systems are available in natural gas, electrical, oil and LPG.
We are church heating specialists, a friendly and professional Gas Safe registered company offering quality church heating and plumbing installation and services throughout the UK, with the highest attention to detail, as well as a strong emphasis on customer service.
We supply, fit, maintain and repair church heating systems across the entire country, and have access to church heating interest free payment plans to help fund our clients projects. Our church heating services are available online and via phone.
For free quotation and design of your church heating projects contact us today on 0161 211 6955
Church Heating Grants & Payment Plans
Are You Looking For a Warmer Church?

SAVE £££ on your bills with a more energy-efficient heating system
Church Heating Specialist are the only company offering a Church Heating Systems with INTEREST FREE PAYMENT PLANS unlike banks or even church construction loans, this means that you can have a fully fitted central heating system done whether it be an upgrade or replacement system or even fully new installation heating system by corgi registered engineers but pay for it on a monthly basis. We would ask you to put down a small deposit depending on the size of your project and then a contract will be made between you and Church Heating Specialist in which you would be able to pay on a monthly basis.
We can arrange either 6, 12 or even 18-month contracts depending on church finances payable by either direct debit or cheque, because at Church Heating Specialist we understand in the fundraising involved just to keep up the maintenance of the building before you even look at extra luxuries.
If you have any concerns or enquiries about our new schemes or would just like quotes on gas checks and servicing cost then please don't hesitate to get in touch by phone or email and our friendly staff will be more than happy to help you out.
About church heating specialists
One of the most common and tough situations represented for churches is the issues related to their church heating system. Providing sufficient comfort for all your worshipers and staff can be a handful in itself, let along when you are given a bundle of further technical issues such as burst pipes, insufficient church heating, expensive monthly bills and an overall poor performing system.
Not only is a church's heating system essential for its guests and staff, but its also vital for the fundamentals of the building from its fabric and contents, keeping them sufficiently protected from moisture and further issues in the colder times of the year.
With this importance to use your system, comes the added effect of expensive running costs. Don't worry! Our team of industry-leading heating specialists are able to help you save hundreds each and every month in church heating bills by the methods and tactics introduced by our professionals.
Unfortunately, there is no universal fix and solution for all churches to follow however our team are able to offer first-hand professional advice with anything related to your church. From how to lower your heating bills, to the best method to effectively heat a church. We have experience and knowledge on all resources used such as underfloor heating, pew heating, chandelier heating, church boilers, wireless heating and a further array of methods to help benefit your place of worship.
Our specialist church heating engineers covers the entire UK from the Highlands of Scotland to the very tip of the South Coast of England. We have a nation wide team of Gas Safe registered experts who are always happy to visit for project appraisals and to provide free quotations for any work required, click here to see the locations we cover
Church heating solutions
Our expert team at Church heating specialist offer a 24/7 emergency repairs support service. We have solutions to all church heating problems that you may be represented with. With emergency calls outs to advice and support. Our incredible support team are always on hand to ensure our customers are 100% satisfied.
We offer an array of different solutions to all your church needs so feel free to get in touch with the UKs leading church heating specialist today and find your perfect team.
Read What Our Clients Say!
Geoff Wellens
St. Leonards – Greater Manchester
"I was very impressed with the work HeatingGlobal did. Its a very old, historic church and they were extremely professional in ensuring all work was done diligently and sympathetically"
Church Warden David Moss
St. John The Baptist Anglican, Wirral
 "Delighted at the quality of the HeatinGlobal's workmanship and the courtesy shown to the church personnel during the completion of the contract" 
Reverand Anna Jarvis
Monton Unitarian Church, Manchester
HeatinGlobal fitted our church with a brand new heating system, from scratch, in the winter of 2017. The workmen who came were extremely hardworking, very friendly and considerate. A fantastic job by a lovely team of people – thank you."
What can we do for your church heating
When it comes to church heating, we are the UKs leading specialist with a team of amazing church engineers and consultants. With skills from repairs, maintenance & servicing to full heating system installations. We aim to help you and your place of worship reap the benefits of a fully-fledged economical and cost-efficient heating system. 
Heating a church can be expensive, that's why our church heating UK service is able to lower your monthly heating bills by hundreds. Take a look at some of our latest work and how we can help save you money!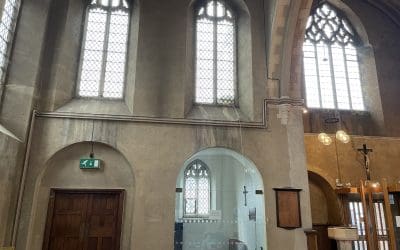 The team at Church heating specialist have recently completed an entirely new church heating system installation and implementation into a stunning church in Eltham Park. This new installation not only modernised the technology and equipment in the church but also...
read more
How to go about Heating Old Churches
Each individual church comes with its own array of issues & factors to be taken into account. It could be as simple as servicing your current church heating system to heat your old church. In some instances, it may be advised bout our consultants look at upgrading your boiler or installing a new heating system such as Under Pew heating to benefit from the cost-effective and efficient heating source.
Heating old churches don't have to be a struggle. We are able to offer church heating grants in the UK to help with the costs. Your best step forward is to speak to a member of our team and we can help advise on how to receive the benefits of this grant.
Getting in touch with us
Please don't hesitate getting in touch if you need assistance with any jobs or services we offer. Our consultants are available 24/7 for emergency repairs and there will be someone on the other side of the phone. We know the importance of having a great team to rely on. That's what we want to make it as simple as possible. For any enquiries you may have, please feel free to use to contact form or give us a call and we will be able to assist you further.
We cover the entire of the UK, it's not an issue whether you are in Scotland or London, we have you covered. Don't wait around and let our specialist make a difference for you and your church or chapel!