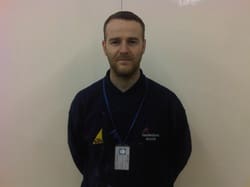 Wayne leech
Church heating engineer
Wayne started his career as a British gas apprentice learning about all domestic plumbing and central heating work, after doing his 4 year course and going out doing his own jobs, working with customers on a daily basis, Wayne wanted something more challenging. 
Wayne went on to then works for Gas Force which is the commercial side of British gas, learning and working with all types of commercial heating system from warehouse heating to schools and churches. Wayne is a good friend of the Bradbury family, and was asked on a few occasions to help out at weekends on some church heating system projects that required extra man power. 
Wayne enjoyed working on the church heating, and everyone noticed the difference in his attitude towards this type of work and wanted the challenge to do and run such jobs of his own.  Applying for a job with HeatinGlobal ltd, Wayne was interviewed fairly like every other candidate to put his own ideas and knowledge into what he could bring to the company. 
Wayne was chosen to work in the family run business and was soon running large church heating projects from start to finish. Wayne has been working for HeatinGlobal for a number of years now and is enjoying the day to day responsibilities of meeting new and interesting people, and working in some of the most beautiful buildings in the world.
Meet the rest of the team…
Got a question?
To speak with one of our specialised church heating engineers, simply fill in your details below, and we will contact you straight away